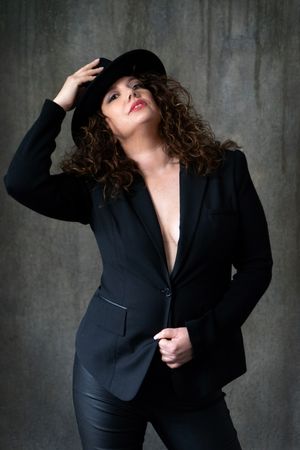 Where did this project begin?
This project has been something I originally planned and curated for an independent theatre festival in Stratford, Ontario, eight years ago. At the time, I was teaching music privately, mostly young singers and wanted to challenge myself to "walk the walk."
See, I'd been singing my own songs, pretty well exclusively, for a decade. For me, the interpretation of the song suggests itself with an immediacy as I am writing. I can hear the sounds I want my voice to make just as I hear the pitches of the notes in my inner ear. But, I don't have that connection to other people's music. In fact, if the original recording of a song is convincing (and it almost always is) then I just would naturally fall into a version that mirrored the original. I was teaching interpretation of the modern and standard songbook and I hadn't done much dedicated and personal interpretive work. So I decided to put together some kind of show and test my mettle.
Why did I chose Leonard Cohen's work?
Because I admire his turn on a phrase and am consoled by his bleak, but hopeful, realism. A poet first, his words are meticulously crafted and worked over. Naturally, I wanted to make the show about his poetry too. Not just a concert, but a curated collection of spoken word and song. Lastly, there was real drama in the man. He had style, panache and weight. His persona and catalogue of works gave me a wide canvass and near-infinite palate to chose from. I found new (to me) works and found new meanings in old favourites. In listening to various songs, Leonard's versions and covers, I kept finding myself distracted from the story's thread by the music. So many instruments and voices. The words were still there, just not up front. That's when I decided what I wanted in accompaniment should be stark, atmospheric, and somewhat primitive. 
Who's in the band?
I knew I wanted only two musicians on stage with me and one would have to be a percussionist/drummer the other I decided would ideally play cello and acoustic guitar. My longtime drummer, collaborator and friend Roger Travassos is the percussionist/beat master and he engineered much of this collection. His openness, curiosity and discipline have inspired me again and again. When I first approached him about the project, I asked him for cello/guitar player recommendations and that's how Kevin Fox became involved. Fortunately Kevin was available for the show date I had fixed. His cello lines are longing and haunting, and his guitar parts lift like the wind.
When I think about our first rehearsal, me with mostly barely sketched out ideas and the desire to keep it as bare as possible I can recall how flexible they both were. How carefully they listened to what I was trying to say to discern what I wanted in the arrangement and then they did their thing. They created, as an ensemble of two, a unique atmosphere for each song, that feels like its own sonic universe. Serving the character of each song. The heart of the song. The poetry.
Read more